Welcome aboard the Cordelia Cruise, where luxury meets adventure! If you're seeking an unforgettable vacation filled with pristine beaches, turquoise waters, and thrilling water sports activities, then a Lakshadweep cruise is just what you need. Nestled in the Arabian Sea off the coast of India, this hidden gem offers breathtaking natural beauty and a serene atmosphere that will leave you speechless. 
About the Cruise
Welcome to Cordelia Cruise, your gateway to paradise! Our luxury cruise ship is designed to provide you with the ultimate vacation experience. With state-of-the-art facilities and world-class amenities, we ensure that every moment of your journey is filled with comfort and relaxation.
During your cruise, immerse yourself in a myriad of activities tailored to suit all ages and interests. From live entertainment shows and captivating performances to rejuvenating spa treatments and fitness classes – there's something for everyone on board! So sit back, relax, and let us take care of everything while you create lasting memories on this extraordinary voyage through Lakshadweep's stunning landscapes.
The 5 best shore excursions at Lakshadweep
The enchanting archipelago of Lakshadweep is a paradise for nature lovers and adventure enthusiasts alike. With its pristine beaches, crystal-clear waters, and vibrant marine life, it offers an array of exciting shore excursions that will leave you mesmerized. Here are the top 5 shore excursions at Lakshadweep that you simply cannot miss!
Explore the Coral Reefs: Dive into the azure waters and witness the breath taking beauty of the coral reefs. Snorkelling or scuba diving in places like Agatti Island or Bangaram Island will introduce you to a world teeming with colourful fish, sea turtles, and even dolphins!
Discover Marine Life: Take a glass-bottom boat ride or go on a guided snorkelling tour to get up close and personal with Lakshadweep's diverse marine life. From vibrant corals to exotic fish species, every moment spent underwater will be filled with awe.
Visit Minicoy Island: Known for its picturesque lighthouse, Minicoy Island is perfect for those seeking solitude amidst nature's splendour. Explore its idyllic beaches, interact with friendly locals, indulge in delicious seafood delicacies – this island promises an unforgettable experience.
Enjoy Water Sports: If adrenaline-pumping activities are your thing, then Lakshadweep has plenty to offer! Try your hand at kayaking through mangrove forests or try wind-surfing along the coastlines – there's something for everyone.
Sunset Cruise: End your day in style by embarking on a sunset cruise around Lakshadweep islands. Witness the sky ablaze with hues of orange and pink as you sail along tranquil waters – it's pure magic!
Lakshadweep cruises provide opportunities galore to immerse yourself in nature's wonders while indulging in thrilling adventures that create memories lasting a lifetime! So pack your bags and set sail on an extraordinary journey to Lakshadweep – a tropical paradise like no other.
All About the Water Sports Activities in Lakshadweep
Lakshadweep, with its pristine turquoise waters and diverse marine life, offers a plethora of water sports activities that will leave adventure enthusiasts wanting for more. Whether you are an experienced water sports enthusiast or a novice seeking some adrenaline-pumping fun, Lakshadweep has something to offer for everyone.
One of the most popular water sports activities in Lakshadweep is snorkelling. Dive into the crystal-clear waters and explore the vibrant coral reefs teeming with colourful fish and other marine creatures. The experience of swimming alongside these fascinating underwater wonders is truly awe-inspiring.
For those who prefer a more exhilarating adventure, scuba diving is a must-try activity in Lakshadweep. Delve deeper into the depths of the ocean and discover hidden treasures such as shipwrecks and rare species of fish. The underwater world awaits your exploration!
If you're not one for getting wet but still want to admire the beauty beneath the surface, opt for glass-bottom boat rides. These unique boats have transparent bottoms that allow you to witness the enchanting marine life without even stepping foot into the water.
Kayaking is another fantastic way to enjoy the serene beauty of Lakshadweep's lagoons and islands. Paddle through calm waters surrounded by breathtaking landscapes while soaking up nature's tranquility.
Last but not least, windsurfing offers an exciting mix of sailing and surfing experiences as you harness the power of wind to glide across waves on a board. Feel like you're flying over water as you master this thrilling sport amidst stunning surroundings.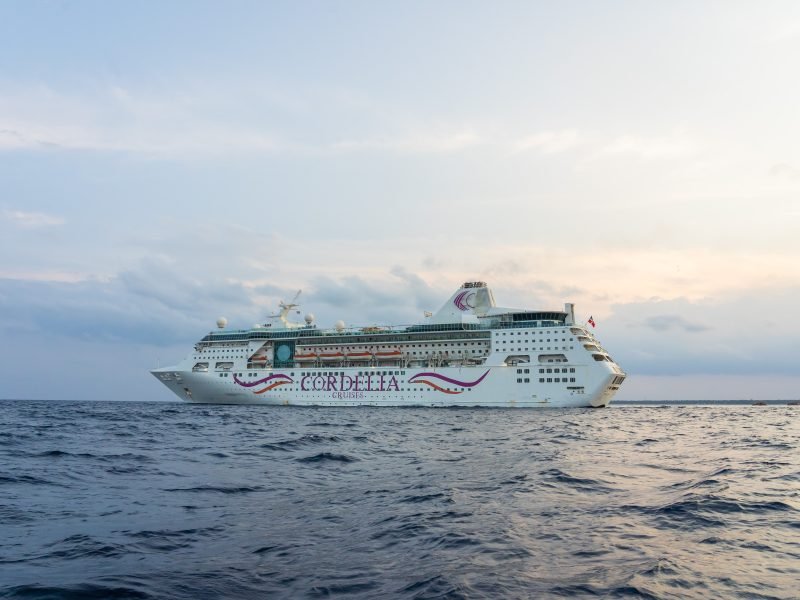 So pack your swimsuit, grab your gear, and get ready for an unforgettable adventure filled with aquatic delights at Lakshadweep! Get ready to immerse yourself in thrilling water sports activities that will create memories to last a lifetime!
Lakshadweep, with its pristine beauty and azure blue waters, is a dream destination for any cruise enthusiast. A Lakshadweep cruise on your Cordelia Cruise offers you the perfect opportunity to explore this hidden gem of India. From stunning beaches to vibrant coral reefs, there are countless shore excursions that will leave you mesmerized.